Sunday, April 13, 2008
im back with more updates of my orientation on fri. well, tt day was a fun and interesting day. it was filled wif games and there isn't any talks for the whole day. we played team-building games, ball games and had water activities. heard tt sbm is the onli sch tt has water activities planned for us. haha.

first station: hockey pitch is the first place tt we go and we played dodge ball and captain's ball. it was so tiring for mi becos i hav not been doin exercise and im now experiencing muscle aches all over my body due to the games.

second station: sports complex is the next place that we go to play team-building games. we use darlie toothpaste to play during the first game. each person is required to pick 1 poker card and the number symbolises a part on the body so as for mi, mine is forehead whereas my partner is right ear so i hav use my forehead to take some of the toothpaste away frm my partner's right ear. so tts abt it. then the 2nd game is called dragon and we had to form a line and the head hav to catch the tail. so after tt, we played against a sports and wellness class. they hav so many ppl la so we lost. forfeit is to do the banana dance. haha. so fun.

last station: stadium is the last place tt we go to play water activities. 1st game is carry a pail of water wif our legs and passing it to the finishing line. it's oso a team-building game becos it requires teamwork and communication skills so tt we can leave as much water in the pail as possible.
after we hav completed, next thing to play is to carry a new pail of water with the soles of our legs and shoulders touching the ground. we lost because we drop the whole pail on the ground when we were halfway thru.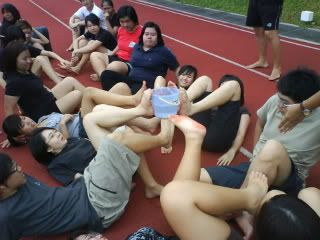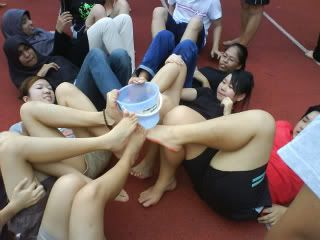 then after tt, it was colour games whereby 1 person got to rmb 7 colours and guide the ppl to walk to the correct colours. when 1 of the colours is wrong, the other party get to throw water bombs at us. so we got wrong at the 4th or 5th colour. haha. after tis game, we had real water games cos all of us reali got wet. the game master pour water on us and we have to squeeze as much water out frm our clothes as possible and we lost. we onli hav half of wad the other grp hav. and then, followed by using our mouth to get ping pong ball frm a small pool of water. the OGLs kept splashing water at our face and head so its quite tough to get the ping pong ball out so we lost as well.

afetr all the games, we went to wash up and head back to sports complex. we took photos there and mr and ms freshee 2008 begins. oh ya, yong kun frm our class is the 1st runner-up for mr freshee. haha. photos below. enjoy!

photos taken wif OGLs: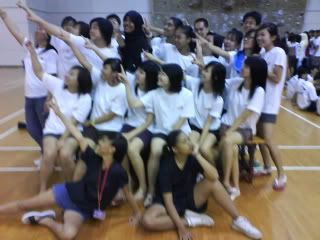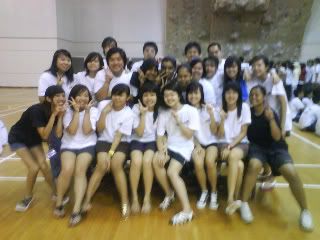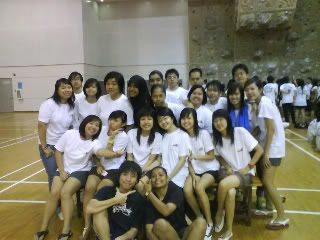 taken wif AF senior
1st runner-up for mr freshee(left)
taken after lunch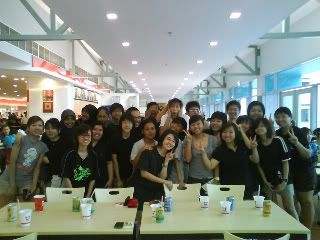 at nyp koufu.

starting sch on monday le! HOORAY!!

3:44 PM ❤