Friday, December 26, 2008
yoyo! im back here to blog!
i had wushu camp frm monday to tues night. the camp has been changed frm 3D2N to 2D1N due to some reasons. in my opinion, i tink tt the camp was tiring but not tt tiring, fun but not tt fun. so contradicting huh. first day: met liyan on the bus and head off to sch to have breakfast! we r lyk eating very slowly becos we tot we r damn early. then when it was 8.30am, we slowly walk to the meeting area and we tot tt we will be the middle to reach there but when we reach there, we r the first few! so surprising! the camp officially starts at 9.30am and after reviewing the purpose and objectives of the training camp, we started off wif warm up and then ti tui. everything was fine and then soon, it was lunch time. as liyan and i had mac breakfast, we r not quite hungry so we slowly eat up the food and i realise tt ZW coach can eat alot. he even ate up one of the members food. haha. after tt, we play wet games but i weren't tt wet, cos i aim at other ppl and no one hold grudges against mi so im kinda dry. haha. a sorry to liyan becos i tink my aiming skills very good so i hit her until very hard. haha. after tt, we had training again. we r pratising our kicking and punching skills. my legs hurt when i kick the padding. my old injury kind of acted up. then was dinner, had breaks after dinner and watch some videos. training continued. we learnt glq routines and i can say tt they teach very fast. for my stm brain to absorb so many steps is so difficult but i manage to do it! yeah! we had pizza for supper. omg! i tink i have gain everything tt i have lost during the training when i eat the pizza. slept at 1+am. second day: woke up early but the rest of the ppl woke up late so all of us went back to slp. had PT and it was so refreshing. i had not run for very long le and then we do other stuffs lyk push-up, ma bu and so on.... after tt, had breakfast which is to be prepared by ourselves. i tink i eat alot. haha. watch some videos but was dozing off in the midst of it. then training again. we do warm up and tis time, we r told to do li yu da ding. my back hurts sia after all the slamming! then was lunch and had breaks after tt. went to have basketball game wif some of them. althu i din play much but it was tiring to stand under the hot sun! then had games tt was organise by pearlyn. ok. quite fun la. haha. then had training again and tis time ZW coach lead us to do glq. he corrected all the mistakes tt we did and at the very last time tt we did, he want us to do all the ma bu and gong bu properly which is to be as low as possible. haha. i tink im one of the highest there. lolx. so everythings goes on and it was home sweet home at 9+pm. anw, kinda hurt my leg again twice in the same day and hope it doesn't get serious):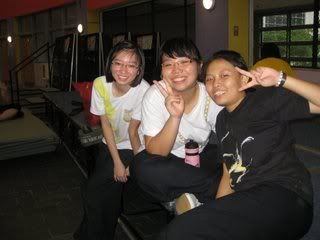 liping, mi and liyan.
wed: had christmas party at bottle tree park restaurant at khatib/yishun. it was kinda boring becos we dunno anybody there so all we can do is eat and eat and eat. hahah! we took alot of fotos too! i drank a glass of beer and a glass of red wine and my face becums very red and hot. wad a good blood circulation! i tink tt is my first countdown party for x'mas! so was kinda excited when all of us were counting down. haha.
second sis and i.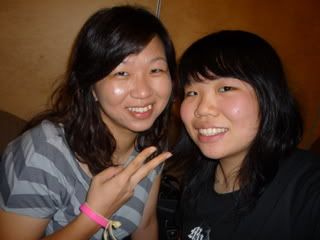 eldest sis and i.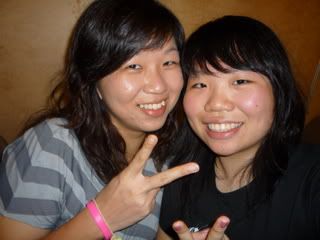 trying to do some pose but ended up lyk tis. haha.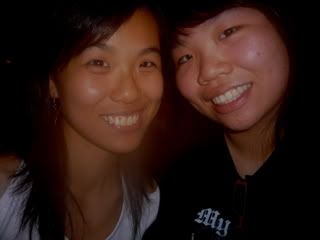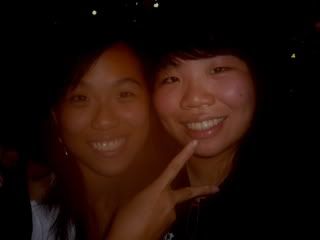 the camera screen is misty due to the temperature of the room.
sisters!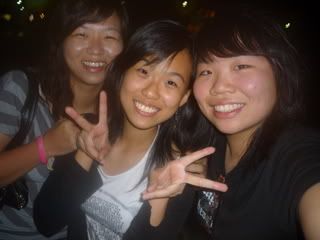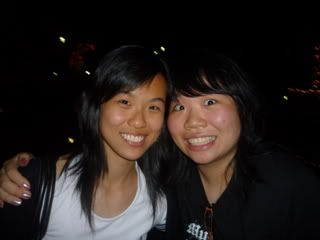 trying to do something funny! haha.
second sis wif the 'so-called' santa claus.
today: went to east coast park to cycle. before tt, met wend, jo for breakfast and i was late as usual. sorry guys! after tt, met karen at the bus stop and off we head to the east coast park. the journey there was filled wif laughter by the jokes created by jo and wend. haha. we started riding at around 11+ and as i wasn't able to ride tt quickly, i was at the back. haha. then on the way, alot of things happen and tt makes the whole activity fun! after tt, wend, jo and her bf left us and we head to PS to have lunch! was having fun teasing each other and we kinda neglected wx when we were shopping. sorry. then before goin hm, went to zone x to have a look and in the end we played of cos! we played drums, a game tt requires 3 ppl which i don't know wad it is called and finally, basketball! it was my first time playing basketball! it was fun but at the same time, tiring... after tt, we went home! i tink this outing is very interesting and we all had fun!
group photo!
mean, mi and peishi.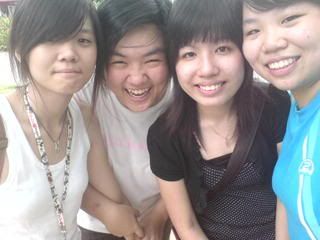 karen, mean, peishi and mi.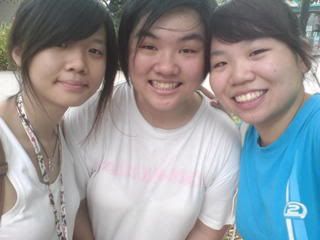 karen, mean and mi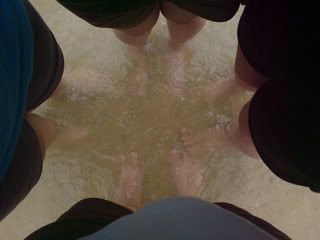 feet submerged in sea water.
karen, mi, wend, peishi, jo and mean.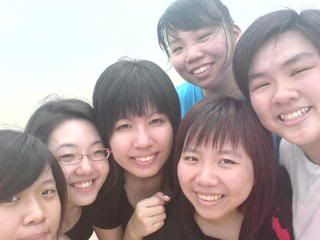 group photo.
ok. tt's all folks! till the next time i blog! tata(:
8:57 PM ❤


Saturday, December 20, 2008
yoyo! im back to blogging!
mon: completed the questionaire tt is used to interview the manager for POM project. so it was considered not bad oredi but now, we mus wait for manager to let us interview before we can carry on wif the proj. so any managers? pls let us interview u!
tues: stayed home and do nth! use laptop the whole day. so sian lorx.
wed: had wushu training and i miss wushu for 3 weeks so tot tt the training will be tough but it was ok i guess. i guess real training will start during the camp?!?!!?
thurs: daddy brought me and sis to change new fone so i got a new handphone now! thanks daddy. tot of getting a fone tt does not requires to pay money but in the end mine nid to pay and sister's dun nid to pay. i feel so bad lorx cos i tink i made daddy spent so much money on mi cos i got new laptop not long ago and now it's handphone. haix. shall not ask him to waste any more money liao. nid to save up le.
fri: went out for a little while wif sis to buy x'mas present. i spent lyk $30+ jus to get 2 presents. omg! luckily i dun nid to get any more presents i guess. cos my time is insufficient to meet up wif all my frens. will be able to meet up wif my darlings on sunday for only a short gathering becos of personal reasons to leave early. haix. how i wish i can stay longer. nvm, i can meet up wif them some other day when they r free and im free too but i noe it's quite difficult to arrange.
looking forward to sunday to meet darlings and it will be dong zhi tt day so will be able to have glutinous rice balls(tang yuan). hehe. then mon to wed will be having wushu training camp. hope tt it wun be tt tough. ok. and oh ya,

wendalyn and fiona are back from overseas! welcum back! hope u both enjoy ur trip and i tink u all will esp. wendalyn cos i tink she had eaten alot of nice food there!

i gtg now. haven finish packing my camp stuff yet so tata! till the next time i blog!(:
8:58 PM ❤


Saturday, December 13, 2008
yoyo! im back after nearly a month! haha. got miss u? so sorry, im lazy as well as busy at the same time. so the holidays are here! shall post the things tt i rmb.
19Nov: HAPPY 18th B'DAE xiaoMEAN!!! i tink i rmbed tt our class celebrated the b'daes of the nov babies. haha.
i dun tink i can rmb any things tt happen in nov. so i will skip to dec.
4dec: HAPPY B'DAE TO DARLING LIYAN, FELICIA AND DAVE!! didn't get to celebrate wif liyan becos it's a thurs and we had lessons till very late. and i oso haven buy present for her yet. haha.
5dec: went to have proj discussion after sch and went to meet ck bro after tt. he bought a b'dae cake for liyan so i went to celebrate wif her. corinne join us too! anw, both mi and liyan think tt we can tok btr to bro in msn rather than face to face. haha. shall post pics after tt.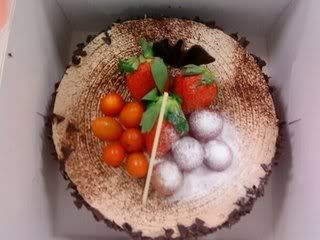 b'dae cake for liyan!
corinne, liyan and mi.
the cake tt liyan cut for mi. isn't tt big? it's like 1/4 of the cake. haha.
11dec: had informative sppech! sad to say, karen was the first few again and i was almost the last few to be called out to present. the nervousness wasn't alot anymore and the rest tt had presented at my table all tell mi tt it's holiday liao. sob sob. then i was the last to be called up frm my table. to my amaze, i actually walk around and din forget my script! and after tt, it was foto taking time!!! anw, i put on my make-up at home and i put it myself!! surprise?!?!
zm got qian bian face.
mi, zm and karen!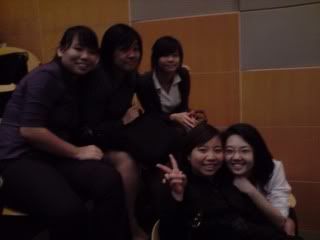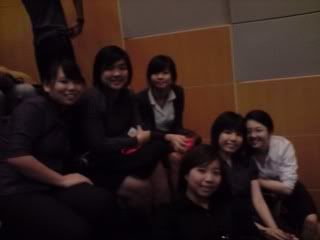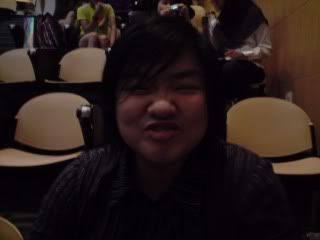 PIG!!=P
i tink tis foto is nice. peishi is gonna be damn happy liao cos i say it's nice. haha.
12dec(ytd): had a fun time in sch cos of xb and ys. they r entertaining the POM tutor as well as suan-ing her. haha. so funny! i tink they are too high le cos it's the last day of sch!! during afa lecture, i tink we jus joke around ourselves and ignore wad the lecturer taught us. lolx. but too bad, wendalyn din join in the fun cos she went back to take her stats proj outline. after the lecture, i went home wif joanne and it was a fun trip back home. haha. we tok abt alot of stuffs and it was quite *ahem*. haha. then at 4+pm she went to my hse to get the food. thanks to mummy tt i have delicious nuggets and fishballs for the class bbq. i intend to meet jo at 4 but due to some reason, i was late and she waited for mi downstairs. sorry jo! after tt, cab to fetch delcine and ys and we went sembawang park together. haha.
we r the first to reach there. the rest came after tt. the guys had a hard time starting the fire so it was quite late when we start the bbq. haha. after tt, we went to the sea/beach there to take fotos! it was so fun. we laugh together and take pics wif stupid pose together. a pity karen din join us. how i wish she was there. so after taking fotos, we went to help out at the bbq pit and ask the rest to go have their food. when teresa left us to eat, we quickly called her back cos the fire was too big! we cant stop the fire. haha. so funny! if u were at the place. u will surely laugh de. then some of them played zhong ji mi ma to finish the food. wend suffered becos she ate a lot of spicy food and i tink she is half-dead by the time she went home. haha. then before tt, we took pics at the bus stop. lolx. cab-ed home wif jo, nicole, liyan after tt. everyone was tired and i tink it was a fun and enjoyable bbq session. great jon AF0802!! happy holidays, merry x'mas and happy new year to everybody!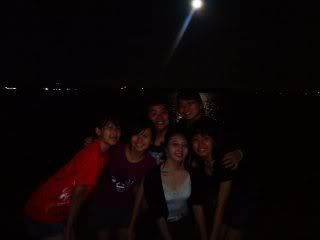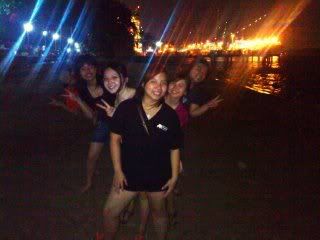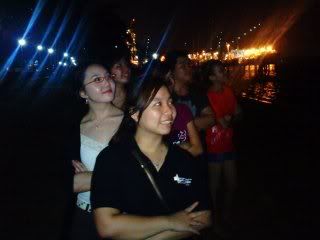 back view...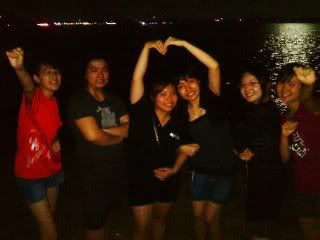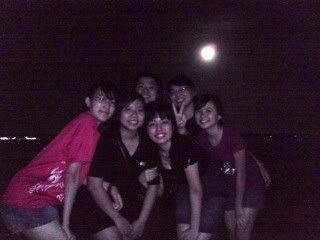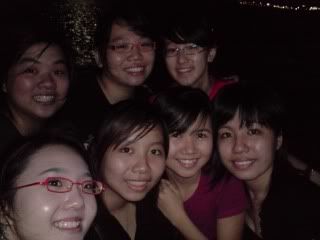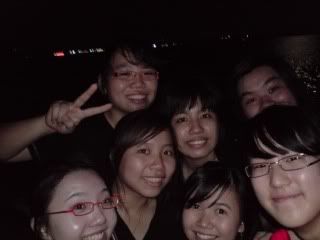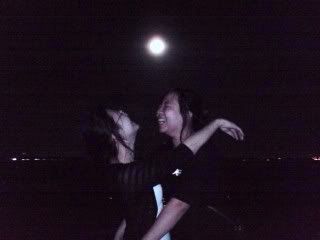 let's kiss....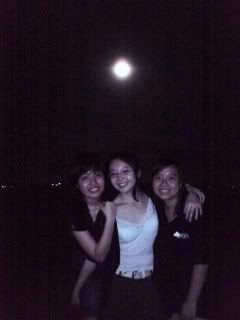 this pic is ugly!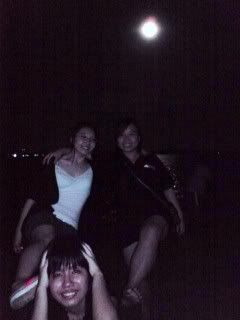 cute ps.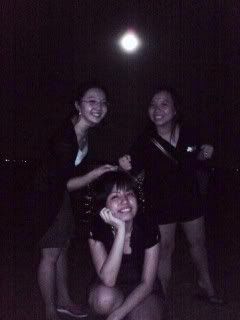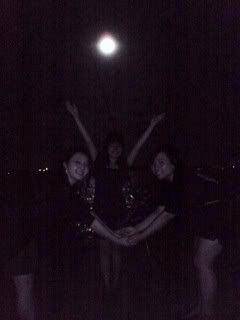 this is me!! im high at tt time so let wend take tis pic. so dun tink too much!
lastly! i got my new laptop!! thanks daddy!(:
10:07 PM ❤