Saturday, April 25, 2009
club crawl is finally over! i noe im late cos other ppl wrote on their blog long time ago. haha. but it's ok. btr than nv blog. hehe. anw, club crawl is a good experience for everybody esp the juniors i guess. cos to mi, i have learned alot of things and i admit tt i wasn't very good at explaining and asking people to join. so from this, i really tried very hard to ask ppl to join and i dunno y, they see mi and they will walk away. ): but luckily, the rest of the wushu ppl got ppl write for them, if not we will not have ppl registering. will try my best next time and be more high next time. anw, club crawl is a success and the most important thing tt i learn is tt i shld not use pencil to write on the photobook. haha. okok. i shldn't elaborate much.
today, went out wif the 5 ladies even when i was feeling damn tired. i was late as usual. hehe. anw, we went to the mind cafe and there's lots of games for us to play! it was so fun. had a great time laughing and playing. it's my first time there and will not hesitate to go there again cos i really enjoy it! well, we also learned some gtames tt we didn't played before and i can conclude that my drawing sucks so dun ask mi to draw. i tink onli the 5 ladies will noe wad im toking abt. haha. so we left the place at 6pm and went for a walk around and decided to go bugis. so we walk there. it's also my first time walking there from dhoby ghaut. ok. there's many first time today for mi. haha. it's also the first time i wear the platform today and of cos i kena blister but nvm, enjoy walking at bugis cos i din walk there for quite some time due to hectic schedule. we saw some nice stuff but in the end din get anything. i wan to get alot of things! but someone please provide mi wif the money! okok. i shall stop here. if not ppl will start falling asleep. bye!
group photo at mind cafe!
1:05 AM ❤


Tuesday, April 21, 2009
yo! im back! it's been long since the last time i really blog. so time past. my grading is over! before i tok abt tis, i received souvenir or rather present from ck bro from genting. thanks bro! i have got another wallet and i really lyk it alot cos it has got green and white colour! and he gave mi a huge lollipop! i dunno how to eat cos it's realli huge. haha. but thx anw. will find time to eat it. hehe.
the huge lollipop and wallet!
ok. i oso receive a sovenir from zhimin. she bought it from genting which is the same place as bro. she bought mi a keychain which is very cute. thanks zhimin! it dun look lyk mi for sure and yes, i realli realli realli dun tink it look lyk mi! haha. see it for urself below. does it look lyk mi? leave mi a tag. haha.
the keychain.
so i will now tok abt grading. the feeling of doin the routine in front of the judges weren't good. i was damn nervous and obviously i did something tt i shouldn't have done. which is nearly forgetting the steps and stopping for a while to recall them. haha. and i was shivering during the routine. i didn't felt tt nervous when i was dancing on the stage during secondary sch or even during SYF! it was my first time and there will be many more times to come! omg! mus overcome the fear. well, jus hope tt i will get a bronze. i will be satisfied. haha. ok enuf of it. this few days have been spent preparing for club crawl and my task is done. next will be the 2 actual day so hope everything will go on smoothly.
anw, went for a swim wif karen and zhimin on mon cos we din do so for quite some time le. the weather wasn't quite good when we enter the swimming complex but when we started swimming, the weather started to change and i have got sun burnt on my face now. not very serious though. anw, had a fun time there. hehe.
school's starting soon! gotta be mentally prepared for my year 2! i tink it's gonna be tedious due to the time-table. ok. i shall go now. bye!
11:16 PM ❤


Friday, April 17, 2009
everybody should watch this video. this shows that how stereotyping people are.
anw, the video doesn't allow embedding so u can onli watch it by clicking on the the below(:
Click here to watch!
7:37 PM ❤


Sunday, April 5, 2009
went swimming wif karen and zm on sat afternoon. before tt, i went jogging wif my eldest sis in the morning. we ran from our place here to half of bishan park. finally i noe how to go there. haha. and there's a strange smell at bishan park. it was damn smelly and the smell can be found near the railway track. haha. dunno whether issit the railway track smelly or wad. lol. then went home for a while to rest and went to swim at tpy. there isn't much ppl there at first when we get there but soon, it became vcery crowded and we saw siya there! so coincident! aftyer the swim, we got sunburn becos the sun was scorching hot and my face was damn red when i got home according to wad zm has said when she saw mi during the video call. haha. but i tink it wasn't tt bad afterall since i applied sun block on my face. haha. i jus noe tt i becum abit darker as compared to before. and we went arcade after we had eaten our teabreak or maybe late lunch. we played photo game which is quite similar to spot the difference. i noe it's lame but we like it! hehe. so we got into the first 5 but it was simply becos very little ppl had played tt machine before. haha. ok. shall stop here. anw, have been rotting at home this few days. din go anywhere except staying at home. but im oso lazy to go out. hehe. ok. bye!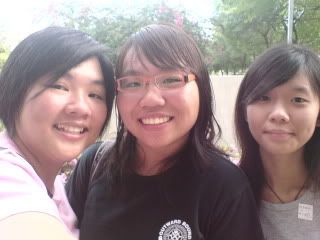 zhimin, me and karen!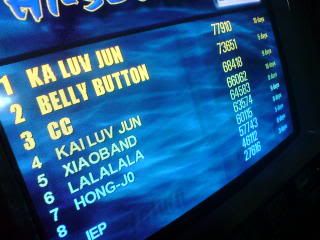 the score board! we are the xiaoband! hehe.
11:48 PM ❤


Wednesday, April 1, 2009
yo! here to blog becos liyan dare mi to! hehe. today's wushu was great! so shiok man! sweat alot and im damn tired cos maybe i was late i rush to the sports hall. then tt rush took up alot of my energy! haha. so i was oredi half dead after the warm up. then after the training, it was more fun! cos we(me and liping) went high and started suaning liyan! it was great man! long time din suan her until lyk tt liao. haha. we tok abt our future. and we keep on saying tt she will be the first to get married cos she keep on saying tt she will not have a bf. and we even tok abt the kids she gonna have. we suan liyan tt next time she will hold 2 kids one on each hand, piggy back 2 kids one in front and 1 behind, and her husband will push the 4 prams which is 4 kids. haha. ppl max 2 prams together but she special, got 4 prams tt can be attached to one another. haha. so total, she will have 8 kids! but if she tiniks tt it's not enuf, the elder ones can still form a line lyk the train and walk in front! her kids will be able to form a soccer team! haha. it was so damn fun suaning her. yupp. so tis is wad she dare mi to do. hehe. ok. shall stop here. hope tt my tagboard will not be spammed. will be starting to build up my stamin cos im always halfdead when i was in the middle of the routine! mus work hard for my grading! jiayou!(:
10:52 PM ❤