Saturday, April 19, 2008
schedule is hectic bt to others, mine seem to be so relax. cos their time-table is worse than mine. couldn't reali adapt to poly life yet. it's so tired. maybe im still nt in study mood yet due to the long hols and i hav nt touch books for a very long time. now when i starting studying, i cant seem to concentrate and keep wanting to sleep. haix. i mus reali buck up le. jiayou! u can do it, serene! well, tutorials and lectures for the past few days so it was tiring. haha. and there is tutorial qns to be done and the textbk to read up bt i hav nt bought any textbk yet cos its always out of stock. haha. ytd, went back to whitley for speech day and to see jiayen receiving prizes, and oso to see whitley's verB! they were so cool! how i wish i had not graduate... y didn't mr kong made the changes to verB when i was there? it was so many ppl when i join la bt now, onli left 12. mr kong say tt he jus wanna focus on this 12 ppl.. he said tt me and jiayen can go back and dance as alumi on their normal practice which is tues bt its a pity tt i got lessons till 5pm. haix. anw after everything, we had dinner at novena's ayam penyet. to mi, its ex bt i still join them for dinner. after tt, it was home sweet home. on the way, chat wif hy via sms jus to show concern to him as a fren. he had nt been attending sch often cos he dun lyk to go to sch. jus hope tt he could understand the importance of schooling and put his priority on his studies and nt somewhere else. all the best, hy! next week will be tutorials and lectures again. so i shld take the time now to rest. till then. seeya!
sorry tt i din give u a chance. i tink u shld jus giv up on mi. maybe tt might be gd for both of us cos our priority is studies and having a relationship will hinder and affect each other's studies. so take care of urself and we shall keep in touch. hope u can see my post. frens forever:)
the folowing are photos taken in the tutorial room ytd:
classmates!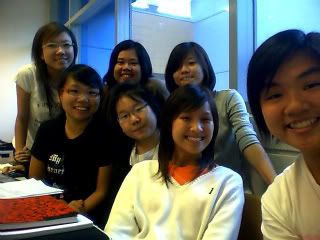 in the tutorial room.
3:50 PM ❤