Friday, July 25, 2008
hi! im back here blogging before this blog becums stagnant. it has been a week since i blogged. was rather busy during tt week due to us rushing to meet the deadline of the projects submission. on mon, had lessons as usual but if i din rmb wrongly, i had project discussion for macroeconomics. i tink it wasn't productive cos we din do much on it. then when i reach hm, i gotta rush out our grp's excel project which nearly drive me to crazy becos we din even do anithing except our table when the project submission is the next day during lesson. so i basically stayed up the night tinking of wad fields to use for the formulas. but luckily i did manage to think of something to do for my IF function. lolx. such a relief.

then it was tues, a long day which ended at 5pm. and we learned how to do pivot table and i tell myself not to fall asleep cos we had to do them on the spot in our project and submit it by the class end. and so i did it! we managed to finish everything even before the class end. i was so happy!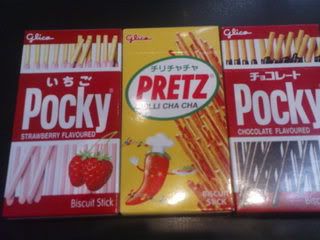 this is wad we bought before marketing lecture, we wanted to ate it during her lecture but we sit too near to lecturer liao so we onli ate them during our breaks.

wed, had project meeting wif our tutor on EWS and we are told tt our conclusions and recommendations are not well done so we discuss after tt meeting and after sch, i went to meet liyan and studied for stats ICA2 which is the next day. i din study much either becos nth went into my brain so i decided to go home and study instead of staying in sch. and i gave wushu training a miss as well for tt wed.

thurs, had my stats ICA2 and i find the paper difficult but maybe its due to mi not liking probability and binomial since im in secondary sch so i struggled abit but still managed to finish the paper. then after tt, our grp continued wif the discussion on macroecons project which is dued the next day which is today. before the meeting, we haven even start on the ppty slides and also haven finish editing the report and appendix so we r lyk quite last min. we stayed to finish everything till 5+pm in the evening and it was lyk finally cos we had difficulty doin them due to some of us being lack of the knowledge on econs and this includes mi! (: after tt, went to find xiaomean and xiaohuman(shall reveal hu they are ltr) cos they are still doin theirs as well. accompanied them for a while and finally they finish theirs too! but at tis moment, it was 7+ to 8 pm oredi and we decided to do our EWS becos almost all the members of the grp are present except 1 guy. so we stayed on till 9pm to finish our part.

today, had econs presentation. was so nervous becos i din even noe wad im doin in the project. haha. and the qns asked are pretty difficult for the first few grps. but luckily, im not the first few grps tt are presenting. when the presentation starts, the order of presenting was hand-picked by diferent ppl so we are so scared to be the first grp to be chosen but luckily we r not. our grp was the 4th to present. after tt, we had photo-taking in our formal attire and some are taken in class. will be uploading ltr. all projects submission down except for EWS which is almost fully completed.*heaved a sigh of relief* wad's left are the presentation of excel project on tues and EWS project on fri. wish mi all the best bahx. ok. wad a long post! its boring, i noe. so read it if u wanna fall asleep faster. ok. till then. ciaos! (:
in tutorial rm before the presentation.
class foto wif PEM but not everybody inside.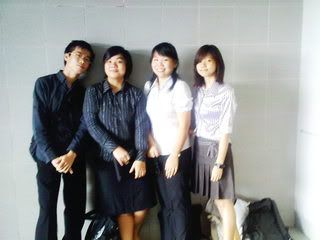 "xiao xiao" band?!?!

ok. i shall end with tis foto!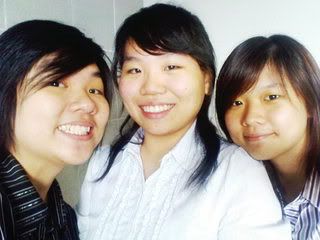 presenting to u.............
1st: zhimin aka xiaomean!
2nd: mi! i shall not say wad's my nickname.
3rd: karen aka xiaohuman! lolx.

8:54 PM ❤