Friday, September 19, 2008
know my results on tues and yes!!! i pass all my modules! i was realli scared when the results were released but out of my expectations, i actually did better for the module which i had least expectations wif than the modules tt i have little confidence in. so it was realli unexpected. all in all, i felt ok wif the results i had gotten. and finally do not need to worry abt taking supp papers.
had a refreshing day on wed and thurs! wed nite as usual, had wushu training and we did the usual things. as my legs still hurts, i din really do all the stunts and stances fully and we learn 2 new things tt day. they are qian gun and da ding. im so afraid tt i will break my neck when doin the qian gun so i onli tried once while other ppl tried at least twice. haha. i mus overcome the phobia of doin qian gun!! and da ding is another difficult one. and my back is suffering while doin the da ding. haha. after the normal training and before the training ends, we did shu zhi xun lian and it was tough! and i tou lan while the rest are still doin cos i was at the back. haha. then it was the cake cutting for the sept babies. they din notice tt there were year 1 sept babies too so din celebrate for them. then it was home sweet home.

thurs, had a badminton session wif 9 wushu ppl. it was fantastic!!! i din play badminton for quite some time thus my hands are aching now. sob. but i realli enjoy it! hope tt there will be more badminton sessions cuming up! and i realise tt when i hit the shuttlecock, i was using alot of strength and liping say tt the sound seems lyk i was hitting the housefly! omg! and we took 1 pic before goin on our own ways. haha. after the 3hrs session, few of us went to koufu and have lunch then off to amk kpool to play pool. i wasn't familiar wif the game so i din play much of it and was there sitting down and watching the rest of them play. we all went home after tt.


the only picture taken on thurs: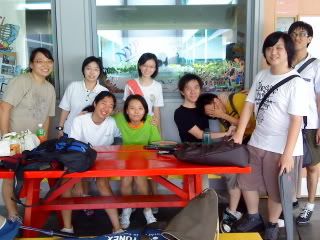 the nine of us! one of them claim tt he is "camera-shy". haha.
10:29 PM ❤