Saturday, November 15, 2008
hi! as promised, im here to update!

mon: celebrated my cousin's 8th b'dae! had a sumptuos meal as usual. haha. his cake is spongebob squarepants. i told my aunty tt i wan the eyes then she really wanted to cut the eyes up for mi but in the end, i rejected. haha. tt's funny. siblings and cpusins bought him a voucher so tt her mum can use it to buy clothes for him! how thoughtful we are! haha. anw,

here's wishing him a happy 8th b'dae

and i noe he wun see it cos he's too young to even noe how to view my blog. haha.

tues: stayed back to do interweb project's report. but din manage to find much.we ended up playing some typing game. we all realised tt one of the grp mates type very fast so we are considering whether to let her do up the report. haha. jkjk. then after tt, went home.

wed, had 1 and 1/2 hrs econs tutorial and there was no john ho's lesson! so i got to wake up late. haha. then after tt, went to meet up wushu peeps as they are having performance and liyan is giving the command! haha. i din perform as usual. after tt, went home to prepare for my narrative spech for thurs thus i skipped wushu training again., i tink i skipped more often to prepare for my icas this sem. hope t i can manage both wushu and studies. slept very late in the night becos i was busy rehearsing for the speech cos i always exceed the time limit thus i gotta cut short my script in order to finish within the time limit.

thurs: woke up very early becos i gotta ask wendalyn and clique to help mi wif my make-up! i was in dance before but i still nid ppl's help on make-up. am i failure?!?! nvm, they help mi wif the eye-liner and mascara. thx! and the time came for the speech. karen is the first to be called up to speak. i can see tt she is very nervous! but good work for her. then i was the 4th to be called up. omg! i was damn nervous! my hands were shaking and i almost forget wad im gonna say thus i did pause for a while. but luckily everything ended well. there are a few classmates trt speak very well i tink they will get marks tt r rather high. ok. then it was a sigh of relief after putting in lot of hardwork. when i reach home, i was damn tired becos din slp much before the speech. hope tt i will get marks higher than the passing marks.

fri: lessons as usual and i hate the POM tutor as usual. how i wish our class can have a petition so tt we can change the tutor. i really hope so! then was AFA lecture. was dozing off in the midst of the lesson so din realli catch wad he was teaching. haha. after tt, went home while the rest went to do project. poor thing. haha. but it will be my turn next week. sob. at nite, watched man vs machine and liping was our star! liyan was interviewed as well. gy coach is a weird coach?!?! lolx. im so happy and lucky tt they cut off my part! hooray!

ok. pictures!
class photos:

taken after the make-up: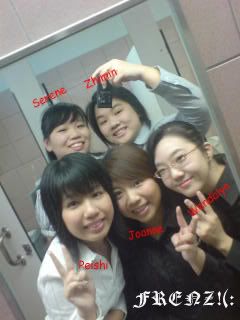 so sad. karen not inside!
ok. tt's all folks! gotta rush out my tutorial liao and all icas are cuming up!
all the best to those taking the icas! jiayou!(:
2:05 PM ❤