Sunday, November 2, 2008
im back!!! getting busier day by day. i haven watch the recent episode of hot shot, invinceable shan bao mei and we got married cos time dun allow mi to do tt. but i got to watch hearts of nineteen.

sun: went to meet up wif my pri sch fren to have a small class gathering cos our chi teacher is back from Japan for a little while. so we gotta meet her before she go back to Japan. we meet at PS and as usual, i was late. haha. but i tink none of them was early except maybe 2 of them. then went starbucks to have a little chat and catch up wif our chi teacher. omg! she's taking doctorate in Japan! smart sia! but she stayed for a while onli so we all went to some shop tt sells collectibles and yupp, it was fantastic! it's an eye-opener for mi! after tt, went home cos each of us got our own things to do and i went back wif few of my frens and had a small chat wif them. it was a long time since i chatted wif them.

mon: it was a public holiday so i nid not wake up at 6+am to attend the 8am lesson! daddy went to buy dimsum for us for breakfast! it was yummy! haha. and i spent the holiday doin nth but tutorials becos i din complete them.

wed: had wushu performance in sch for the lunch-time performance and i had to skip tutorial becos of this. i tink i will not be performing for it becos i dun wan to miss anymore tutorials tt might eventually affect my results. i have no idea y everytime the excuse letter given to mi, either my name or y admin no. had error. so im afraid tt i wun have full attendance. ok. it's over liao. hope my PEM saw my email tt i send to him. i have interweb ica2 so i actually skipped wushu training to revise for tt test. haix. but the results tt i got is lower than wad i have gotten for ica1. so it's kind of disappointing.

fri, stayed back to do interweb project but my laptop jus dun wan to connect to the sch's intranet. so frustrating! so i practically sit there and wait for the time to fly. saw darling jiayen, sw, ck and darling fiona at macs.

sat: went to sch to do project again. my laptop cant connect to the intranet again! pekcek sia. and i delete the SBM network but forget to configure back. haha. guess i will have to go to sch early tmr to configure my laptop.

today: will b goin to grandma's hse ltr. i noe it will be a boring one cos im not close to my cousins there. haix.

pictures taken on sunday!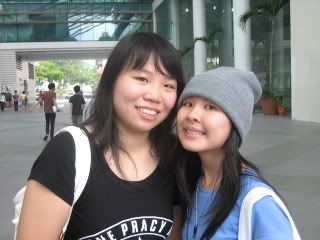 me and tinky
group photo.
taken with the drop of blood. haha.
jacq and liching.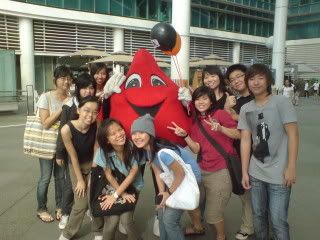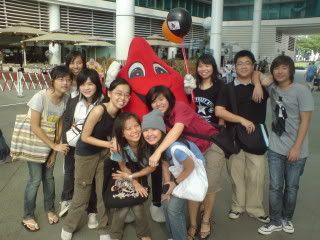 4:47 PM ❤