Sunday, November 9, 2008
a week has past. 1 presentation is down! yeah! and jus to recap.....

mon: our AFA tutor came back from his reservice. he's ok la. but he kinda soft-spoken. well, we will see how maybe after few lessons. after school, my mum treated mi, my aunt and grandma to ichiban sushi! yum yum. it's delicious! and poor zhimin stayed back in sch for project so i msg her to tempt her. haha! then went back home after tt.

tues: went to sch jus for the pathetic lecture which is supposedly to last for 2 hours but it only last for 1 hr. i was late to meet mean and human at mac before the lecture to have lunch. haha. sorry!

wed: after the 2 tutorials, had some short discussion and went to the clubroom straight away but due to time constraints, i din perform for the performance. so i took videos for them! after tt, went for lunch and waited for training to start. before tt, went to the library to help mean cos their presentation was not done yet but i slept halfway thru. so sorry! tt day was karen's 17th b'dae! so i hereby wish her a very happy b'dae and hope that she will excel in everything she does and stay pretty always! and hope u lyk the prresent althu i din do much for it. HAPPY 17th B'DAE KAREN!!!

thurs: i tot tt i was late for class but hu noes the tutor is later than mi! haha. then after tt, we had presentation for our internet and web technologies module. it was overall an ok presentation. i tink im abit nervous tt i even forgot to wear my lanyard when i oredi took out nd left it on the table. as i was the first to speak, i was speaking very fast and my grp mate gotta ask mi to slow down. haha. hope i will not be too nervous and speak slower for the rest of the presentation.

fri: mean, human and i wore skirts to sch cos we were told to wear it since we r goin for dinner after sch. unbelievable rite? lolx. after sch, we went to ps to buy some stuffs and loiter till around 5.30pm. then we proceed on to marina square to have our buffet dinner at yuki yaki. it was nice and filling. we sat wif bao and justin. it was good to sit wif bao becos we dun have to cook but when he got up his seat to get food, it was no good cos when he cums back, the plates are always full and jus realise that he lyks to eat prawns alot and mean lyk salmon alot too! haha. so it was kinda fun eating wif him. haha. after dinner, went to send karen off as she nids to go back first then the rest went for a walk from cityhall along the singapore river and esplanade to raffles place. joanne, wendalyn and i went to clarke quay to take mrt but in the end we din take. when we were in front of the clarke quay mrt station, we decided to take a cab home. haha. it's was so stupid of us to walk till there to take a cab home lorx. but since the other 2's legs are very pain, i dun mind. they r wearing high heels shoes! i wonder how i will be lyk if i have worn their shoes. haha. hope their legs are fine now.

sat: went out in the afternoon to meet mean to pass her something. when im wif mean, i will surely spend money de lorx. im broke! so i will not go out wif mean anymore!!!


photos ahead!
taken on thurs: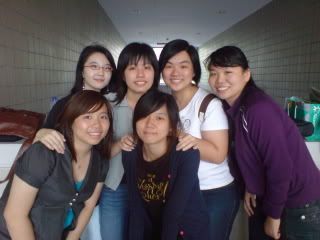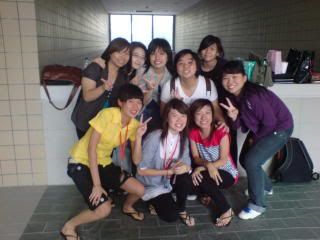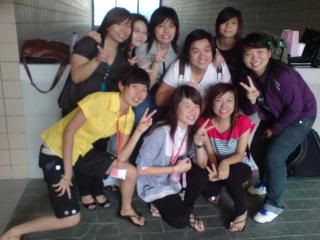 taken on fri:
xiaomean!
in the dark...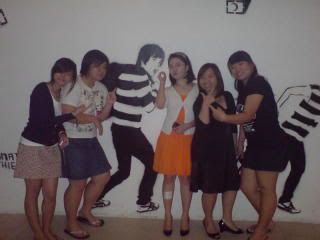 buffet dinner!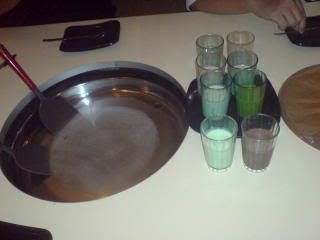 before frying the ice-cream....
weird flavoured ice-cream(before)

ice-cream!
this is wad the five fo us ate...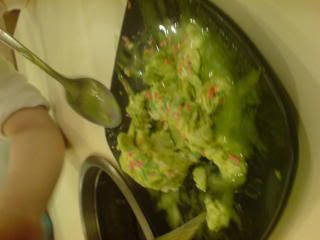 weird flavoured ice-cream...
this is me!
Lastly! here's
wishing xiong biao aka bao a happy 21st b'dae! hope all his wishes will cum true and he willl find his the other half quickly! AND FRENS FOREVA!!
3:08 PM ❤