Friday, December 26, 2008
yoyo! im back here to blog!
i had wushu camp frm monday to tues night. the camp has been changed frm 3D2N to 2D1N due to some reasons. in my opinion, i tink tt the camp was tiring but not tt tiring, fun but not tt fun. so contradicting huh. first day: met liyan on the bus and head off to sch to have breakfast! we r lyk eating very slowly becos we tot we r damn early. then when it was 8.30am, we slowly walk to the meeting area and we tot tt we will be the middle to reach there but when we reach there, we r the first few! so surprising! the camp officially starts at 9.30am and after reviewing the purpose and objectives of the training camp, we started off wif warm up and then ti tui. everything was fine and then soon, it was lunch time. as liyan and i had mac breakfast, we r not quite hungry so we slowly eat up the food and i realise tt ZW coach can eat alot. he even ate up one of the members food. haha. after tt, we play wet games but i weren't tt wet, cos i aim at other ppl and no one hold grudges against mi so im kinda dry. haha. a sorry to liyan becos i tink my aiming skills very good so i hit her until very hard. haha. after tt, we had training again. we r pratising our kicking and punching skills. my legs hurt when i kick the padding. my old injury kind of acted up. then was dinner, had breaks after dinner and watch some videos. training continued. we learnt glq routines and i can say tt they teach very fast. for my stm brain to absorb so many steps is so difficult but i manage to do it! yeah! we had pizza for supper. omg! i tink i have gain everything tt i have lost during the training when i eat the pizza. slept at 1+am. second day: woke up early but the rest of the ppl woke up late so all of us went back to slp. had PT and it was so refreshing. i had not run for very long le and then we do other stuffs lyk push-up, ma bu and so on.... after tt, had breakfast which is to be prepared by ourselves. i tink i eat alot. haha. watch some videos but was dozing off in the midst of it. then training again. we do warm up and tis time, we r told to do li yu da ding. my back hurts sia after all the slamming! then was lunch and had breaks after tt. went to have basketball game wif some of them. althu i din play much but it was tiring to stand under the hot sun! then had games tt was organise by pearlyn. ok. quite fun la. haha. then had training again and tis time ZW coach lead us to do glq. he corrected all the mistakes tt we did and at the very last time tt we did, he want us to do all the ma bu and gong bu properly which is to be as low as possible. haha. i tink im one of the highest there. lolx. so everythings goes on and it was home sweet home at 9+pm. anw, kinda hurt my leg again twice in the same day and hope it doesn't get serious):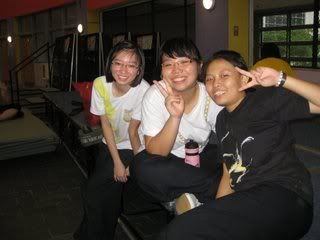 liping, mi and liyan.
wed: had christmas party at bottle tree park restaurant at khatib/yishun. it was kinda boring becos we dunno anybody there so all we can do is eat and eat and eat. hahah! we took alot of fotos too! i drank a glass of beer and a glass of red wine and my face becums very red and hot. wad a good blood circulation! i tink tt is my first countdown party for x'mas! so was kinda excited when all of us were counting down. haha.
second sis and i.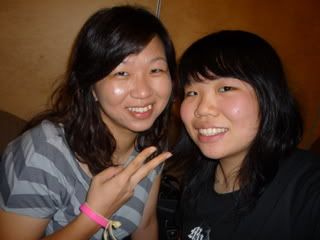 eldest sis and i.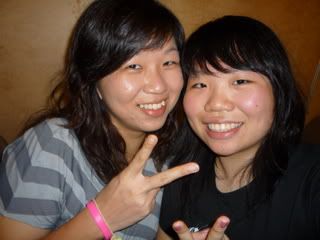 trying to do some pose but ended up lyk tis. haha.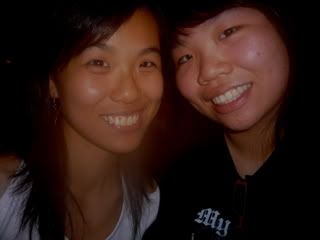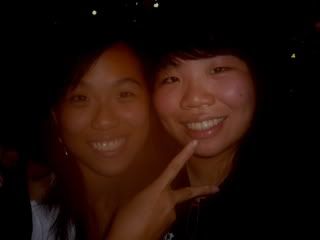 the camera screen is misty due to the temperature of the room.
sisters!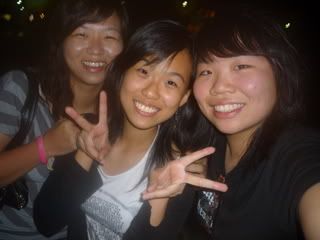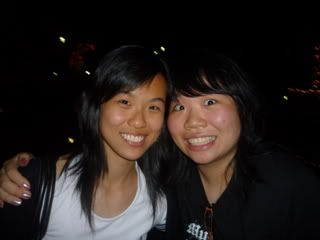 trying to do something funny! haha.
second sis wif the 'so-called' santa claus.
today: went to east coast park to cycle. before tt, met wend, jo for breakfast and i was late as usual. sorry guys! after tt, met karen at the bus stop and off we head to the east coast park. the journey there was filled wif laughter by the jokes created by jo and wend. haha. we started riding at around 11+ and as i wasn't able to ride tt quickly, i was at the back. haha. then on the way, alot of things happen and tt makes the whole activity fun! after tt, wend, jo and her bf left us and we head to PS to have lunch! was having fun teasing each other and we kinda neglected wx when we were shopping. sorry. then before goin hm, went to zone x to have a look and in the end we played of cos! we played drums, a game tt requires 3 ppl which i don't know wad it is called and finally, basketball! it was my first time playing basketball! it was fun but at the same time, tiring... after tt, we went home! i tink this outing is very interesting and we all had fun!
group photo!
mean, mi and peishi.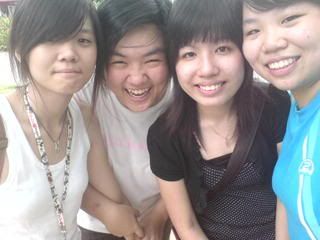 karen, mean, peishi and mi.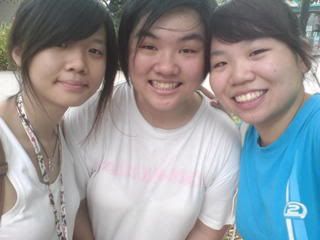 karen, mean and mi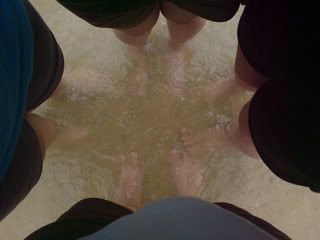 feet submerged in sea water.
karen, mi, wend, peishi, jo and mean.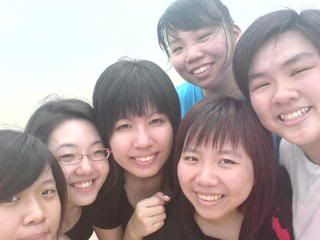 group photo.
ok. tt's all folks! till the next time i blog! tata(:
8:57 PM ❤