Thursday, January 8, 2009
im back here blogging! it's 8 January 2009 now but i still wanna wish everybody a HAPPY NEW YEAR since i din have a chance to wish everybody. first of all, i spent my new year eve first time outside. and was back home late as well. haha. went out wif xb and wx to eat then after tt went to simei to zm's fren's hse to countdown. i noe simei is far but i dunno y i jus happily go meet zm there. haha. when i was goin home, i was thinking tt the train must be damn crowded as it was after the countdown but i was wrong! it was so damn quiet and there were even seats available for us to sit. haha. was quite surprised. reach home at abt 2am. hehe.
zm and mii
sat: went to meet darlings for jermaine's b'dae celebration! had swesens for dinner and i was so broke after tt. after tt, went to take pictures but i haven received the pics yet so will post the pics next time(: when everybody went home, darling fiona and i went to shop! i bought something and there goes my $50 in a night! sob): anw, A HAPPY 18th BIRTHDAY TO JERMAINE!! may all ur dreams cum true and everything will go smoothly in ur life be it relationships, families or studies!(: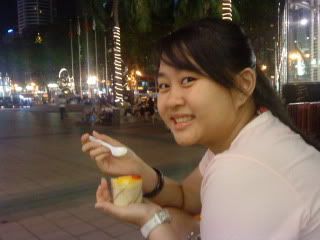 birthday gal: Jermaine!
fiona and mii
on mon, i dyed my hair! it was my first time! haha. the colour was not obvious though cos i scared if i dye more obvious, it will not be accepted for my cca. the hair dye is damn smelly! imagine sleeping wif the smell on ur hair! even wend oso cant stand it! but it was over now. haha.
can u all see my hair colour? i noe it isn't obvious! haha.
tues: no lesson!! but went to sch for proj. everyone was late for the proj and we spent some time playing facebook before starting our discussion. hehe. then after tt, i went off to do my other proj which is econs. after the proj, went to south canteen to have lunch and the whole meal was damn interesting and funny cos we are busy teasing each other. lolx. then we went to attend some briefing for our open hse duties and i got my time slot! i will be doin duty on sat morning shift!
wed: spent 2 hrs in sch for econs tutorial and went hoem after tt. went to sch in the evening for wushu training. din had training for 2 weeks since the training camp. but it wasn't tt tedious cos we had rehearsals for our open hse performance. so it was home sweet home after tt.
went to sch today for oral comm proj discussion. i wasn't doin anything there except playing facebook. oops! sorry. but will do research at home de so no worries yea? then pei zm have lunch and went to look for liyan after tt. we went to giv her apple pie but so sad, it wasn't from mi. haha. will be having wushu performance tmr as well as duties on sat for the open hse.
today is my 2nd sister's b'dae! HAPPY 19th BIRTHDAY, WENDY!! hope tt u will excel in everything u do esp studies!(:
ok. shall stop blogging oredi. till the next time i blog! tata!(:
7:59 PM ❤