Sunday, April 5, 2009
went swimming wif karen and zm on sat afternoon. before tt, i went jogging wif my eldest sis in the morning. we ran from our place here to half of bishan park. finally i noe how to go there. haha. and there's a strange smell at bishan park. it was damn smelly and the smell can be found near the railway track. haha. dunno whether issit the railway track smelly or wad. lol. then went home for a while to rest and went to swim at tpy. there isn't much ppl there at first when we get there but soon, it became vcery crowded and we saw siya there! so coincident! aftyer the swim, we got sunburn becos the sun was scorching hot and my face was damn red when i got home according to wad zm has said when she saw mi during the video call. haha. but i tink it wasn't tt bad afterall since i applied sun block on my face. haha. i jus noe tt i becum abit darker as compared to before. and we went arcade after we had eaten our teabreak or maybe late lunch. we played photo game which is quite similar to spot the difference. i noe it's lame but we like it! hehe. so we got into the first 5 but it was simply becos very little ppl had played tt machine before. haha. ok. shall stop here. anw, have been rotting at home this few days. din go anywhere except staying at home. but im oso lazy to go out. hehe. ok. bye!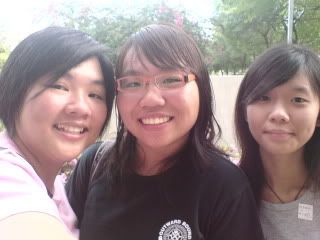 zhimin, me and karen!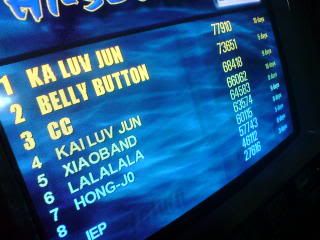 the score board! we are the xiaoband! hehe.
11:48 PM ❤